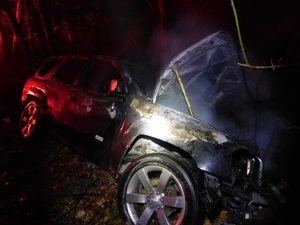 Franklin County, In. — One person was injured in a fiery Franklin County crash Tuesday evening.
A report from the Franklin County Sheriff's Department says a car driven by Kyle Manis, 26, of Cedar Grove, was northbound on Johnson Fork Road near the Franklin/Dearborn County line at 10:47 p.m. when he struck a deer. The collision caused Manis to drive off the side of the road and strike a tree. Emergency workers were able to Manis out of the wreckage before it burst into flames.
Manis was flown to University of Cincinnati Hospital for treatment. His condition is not known.