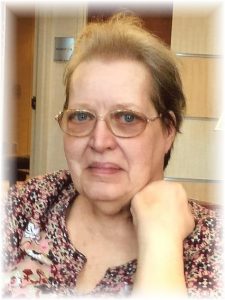 Nancy Ellen Kern, age 72 of Batesville, Indiana passed away on Sunday, October 29, 2017 at The Waters of Batesville.   The daughter of Rudolph & Leona (nee: Mendel) Kern was born on October 5, 1945 in Hamilton, Ohio.
The 1964 graduate of Harrison High School owned a floral shop in Greensburg for many years.  Later she went to work at the Hampton Inn in Batesville for 16 years until she retired.   Nancy attended the Batesville United Methodist Church and was a member of the Marvin Chapter, Order of Eastern Star #376.
Nancy was a very independent lady.  She was a very loving person and most everyone liked her after meeting her.  She had various hobbies and interests.   Nancy collected all sorts of pigs, from large to small and ceramic to wood.  She also enjoyed traveling, and would often set off to visit relatives and friends far away.
She is survived by her son James B. Lahmann of Williamstown, KY; her sister, Janie (Robert) Fitzpatrick of Batesville, IN and her brother Vernon (Margie) Kern of Florence, KY.
Visitation will be Saturday, November 11, 2017 from 1-2pm with a 2pm Memorial Service immediately following all at Meyers Funeral Home in Batesville, IN.  Rev. Chris Rinick officiating.
Memorials may be given to the Batesville United Methodist Church Memorial Fund c/o the funeral home. Online condolences www.meyersfuneralhomes.com.