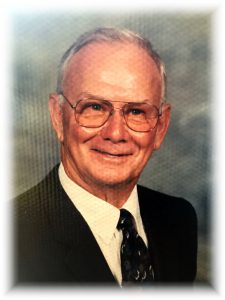 John Edward Schone, age 84 of Batesville, Indiana passed away on Sunday, October 22, 2017 at St. Andrews Health Campus.  The son of Edwin and Lillie (Thie) Schone was born on August 31, 1933 in Franklin County, Indiana.
On July 18, 1959 John married Pauline Galle at St. Mark Lutheran Church in Batesville.   John was a member of St. John's United Church of Christ, the Batesville Lodge #668 F&AM and both the Scottish Rite and Murat Shrine Club of Indianapolis.
John was a lifelong farmer and was passionate about what he did.  He spent much of his time doing carpentry and woodworking in his own private wood shop.  He enjoyed making quite a lot of furniture for family and friends.  John and his wife loved to travel together, always driving to their various destinations.  The children fondly remember taking off every summer for a two week family vacation.  The couple hit every state this side of the Mississippi and as far south as Texas.  Later in life John spent time following his grandchildren to all their sports and events.  Family was very special to him.  Their family recalls John and Pauline were model parents and grandparents.
John is survived by his son, Evan (Becky) Schone of East Greenville, PA; daughter, Diena (Jay) Beyer of Aurora, IN; five grandchildren, Alyssa Vanin, Shannon Schone, Mary Christine Schone, Leah Winston and Ethan Beyer; two sisters Carol Maple of Batesville and Marilyn (Richard) Sitterding of Batesville along with his nieces and nephews.
In addition to his parents, John was preceded in death by his wife Pauline in 2015.
Visitation will be Monday, October 23, 2017 from 5-8PM at St. John's United Church of Christ with Masonic services at 8PM.  Funeral Services are 11AM on Tuesday at St. John's United Church of Christ (Huntersville) in Batesville.  Rev. Dennis & Linda Frische-Mouri officiating.  Burial will follow in the church cemetery.
Memorials may be given to the St. John's UCC or the Alzheimer's Association c/o Meyers Funeral Home.  Online condolences www.meyersfuneralhomes.com.