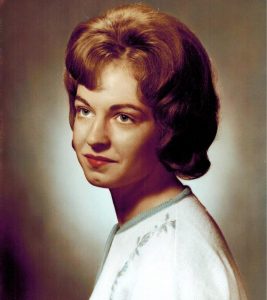 Mary Jon "Jonnie" Dunham (Heinlein), 70, of Milford Ohio, passed away October 4th, 2017.
Mary Jon was born in Batesville, IN on October 26th, 1946 to the late Chester and Ruth (Hotopp) Heinlein. Mary Jon is survived by her daughter Annie (Dennis) Hoffman, grandsons Ryder and River Hoffman, stepdaughter Amy (Joe) Licata, step grandchildren Jordan and Alexis Hoffman, brother Bill Heinlein, Nephews Jeff Connelly, Joseph Connelly, Kenton Heinlein, Keith Heinlein, and niece Kara (Heinlein) Reatherford, as well as four great nieces and four great nephews. Mary Jon is preceded in death by husband Harry Dunham, and sisters Judy (Heinlein) Hillenbrand and Beth (Heinlein) Connelly.
Mary Jon was a graduate of Immaculate Conception Academy, class of 1964. She went on to work at Kenner Products for several years. She was then employed at Proctor and Gamble for 20 years before retiring in 2001.
Mary Jon was a devoted wife, and a loving supportive mother, grandmother, sister, aunt and friend who enjoyed spending time with her family and friends. Mary Jon was an accomplished seamstress and impressed everyone with her creative talent. She was most famous for her German potato salad, cheese balls and numerous other delicacies she prepared for the Heinlein Family Christmas Eve hors d'oeuvre buffet. Mary Jon was most admired for her positive attitude, humility, acceptance, and great sense of humor.
Visitation will be held Wednesday, October 11th, 10-11:30 am, with funeral service following at Evans Funeral Home, 741 Center St., Milford Ohio. The family requests memorials to be forwarded to The Oldenburg Academy Tuition Assistance Program, PO Box 200 Oldenburg, IN 47036 or YWCA Greater Cincinnati, 898 Walnut Street, Cincinnati, OH 45202, with a designation for funds to be directed to The House of Peace Battered Women's Shelter Clermont County.