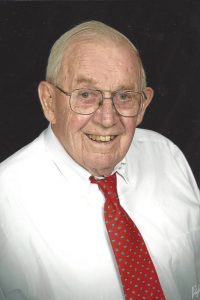 Richard "Dick" Williams, of Brookville, was born on September 12, 1924 in Brookville, the son of Andy and Ada Reissleman Williams.  The day after graduation from Brookville High School, he left and served in the Merchant Marine and then was drafted in to the United States Marine Corps in October of 1943, serving in the pacific area and Japan.  Dick wed the former Mary June Weileman on August 18, 1951 at St. Michael Catholic Church.  He owned and operated with his sister Lil, the Four Seasons Flower Shop.  Upon her death, Dick and his wife continued the business until their retirement.  He stayed busy working for his father at the Williams and Kuntz Implement Company for 20 years, and also worked for Fernald National Lead for 2 years.  Dick stayed active in his community; serving on the Brookville Town Board for 22 years – 4 of which he served as President, and on the County Council for 8 years.  He was a 50 year member of Knights of Columbus as well as the Brookville Eagles.  Dick was a 60 year member of the Brookville V.F.W. and the Brookville American Legion Post #77 – where he served as the Firing Squad Commander for 35 years.  On Monday, September 18, 2017, at the age of 93, Dick passed away at Margaret Mary Health in Batesville.
Those surviving who will cherish Dick's memory include his wife of 66 years, Mary June Williams; children, Melanie (Ric) Fullenkamp of Batesville, Nicholas (Peggy) Williams of Huntsville, AL, Eric (Joy) Williams of Louisville, KY, Philip (Barbara) Williams of Brookville, and Neil (Colleen) Williams of Loveland, OH; 11 grandchildren, Aaron Fullenkamp, Molly Fullenkamp, Erika Richie, Jarrod Butler, Katie Williams Holmund, Kyle Williams, Kelli Williams, Abby Williams, Emily Williams, Natalie Williams, and Kacie Williams; 8 great grandchildren, Elijah Fullenkamp, Adeline Fullenkamp, Ellis Richie, Olive Richie, Mateo Holmund, Vega Holmund, Lilliana Butler, and Dahlia Butler.  Besides his parents, he was preceded in death by 3 sisters, Viola Van Loo, and Geraldine and Lillian Williams.
Friends may visit with the family on Thursday, September 21, 2017 from 4 until 8 p.m. at Cook Rosenberger Funeral Home, 929 Main Street, Brookville.  Rosary will be recited at 3:15.  A Mass of Christian burial will be held at St. Michael Catholic Church on Friday at 10:30 a.m. with burial following in the church cemetery. Full military graveside honors will be conducted by the Bernard Hurst Post #77 Brookville American Legion.
Memorial contributions can be directed to the Brookville American Legion Post #77 or to St. Michael School.  To sign the online guestbook or to leave a personal condolence, please visit www.cookrosenberger.com.   The staff of Cook Rosenberger Funeral Home is honored to care for the family of Dick Williams.