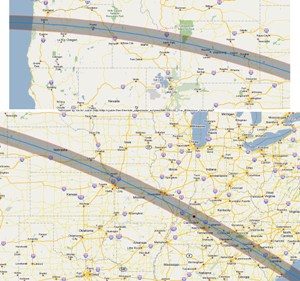 Batesville, In. — After a 40 year wait, the United States will experience a full solar eclipse. From about 9 a.m. to 4 p.m. on Monday, August 21 the "Great American Solar Eclipse" will roll across the Great Northwest to Appalachia, then off the coast of South Carolina.
Hopkinsville, Kentucky could be the closest location for "Totality" to the Hoosier state. The town is hosting a three day festival for enthusiasts. Complete information and an official countdown is online at eclipseville.com/.
Officials from the Indiana Department a of Transportation say about 200 million people live within the path of "Totality." Congestion is expected before and after August 21 on U.S. 41, U.S. 231 and I-69. Interstate 65 is also expected to experience increased volume.
Eclipse enthusiast Dan McGlaun says the rare event is uniquely American. The last total eclipse in the United States occurred on Feb. 26, 1979. The last total eclipse that crossed the entire continent occurred on June 8, 1918 and the last time a total solar eclipse occurred exclusively in the U.S. was in 1778. McGlaun has a webpage dedicated to the event here eclipse2017.org/ .