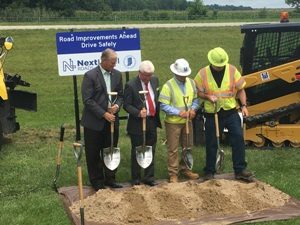 Batesville, In. — Local leaders, officials from INDOT and Milestone Contractors conducted a ceremonial beginning to the $61 million I-74 reconstruction project. Already signs are being placed and workers are gearing up for a project that will last until 2019.
In 2017 work operations and lane restrictions will center around the I-74 exits at New Point and State Road 101. In 2018 motorists can expect one eastbound and one westbound lane on the eastbound side while I-74 West from New Point to Penntown is completely rebuilt. In 2019 traffic will move to the new westbound lanes while I-74 East is reconstructed. The project also includes new bridge superstructures at Western and Little Laughery Creeks.
The full-depth reconstruction project is the first NEXT LEVEL project in southeastern Indiana. The NEXT LEVEL program is a 20 year plan to invest $30 billion in Indiana infrastructure.