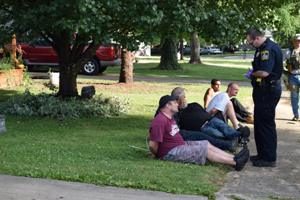 Columbus, Ind. — A joint operation between the Columbus and Greensburg Police Departments has resulted the seizure of a sizable quantity of methamphetamine and six arrests in the Columbus area.
Detectives from Greensburg, Columbus and the Bartholomew County-based Joint Narcotics Task Force Enforcement Team summoned the SWAT after learning the suspects were armed and inside a residence in the 1900 block of Dawnshire Drive in Columbus. Police were able to arrest the following suspects without incident after breaching the property:
David Michael Hardin, 43 of Columbus, dealing in methamphetamine greater than 10 grams.
Donald Shirley, 53 of Clifford, obstructing justice.
Colten Shirley, 24, of Mooresville, visiting a common nuisance.
Robert W. Goodin, 46, of Seymour, visiting a common nuisance, possession of heroin and possession of a legend drug injection device.
Michael Goodin, 26, of Columbus, visiting a common nuisance.
Randall Garris, 45, of Columbus, possession of marijuana and visiting a common nuisance.
Police recovered 50 grams of methamphetamine, marijuana, heroin and two handguns. One suspect suffered a minor dog bite during the apprehension.
This is an ongoing investigation.