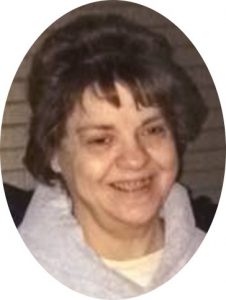 Connie Jo Montgomery 60, of Moores Hill passed away Monday June 5, 2017 at Margaret Mary Health at Batesville. Connie was born Thursday August 30, 1956 in Batesville the daughter of Edgar and Mariam (Brayden) Mitchell. She married David Montgomery June 30, 1973 and he survives. Connie worked as an LPN for several local nursing homes in the area. She was a member of the Moores Hill American Legion Auxiliary. She enjoyed reading, watching game shows on TV, camping, and spending time with her family.
Her survivors include husband: David Montgomery of Moores Hill; son: David Mitchell Montgomery of Greendale; daughters: Tammy Montgomery of Moores Hill; Amy Jo Solomon and Elizabeth Rhoades both of Greendale; brothers: Frank (America) Mitchell of Rising Sun; Ron Mitchell of Bowling Green, Ky. 3- Grandchildren: Michel Hogston, Peyton Montgomery and Trinity Hogston. She was preceded in death by her parents, 2 brothers, 2 sisters.
Services will be 7PM Tuesday June 20, 2017 at Sibbett-Moore Funeral Home. Visitation will be 5-7PM Tuesday also at the funeral home. Memorials may be made to the Diabetes Association. Sibbett-Moore Funeral Home, Moores Hill entrusted with arrangements. Go to www.sibbettmoore.com to leave an online condolence message for the family.